---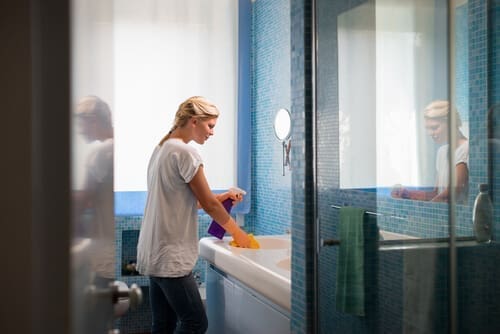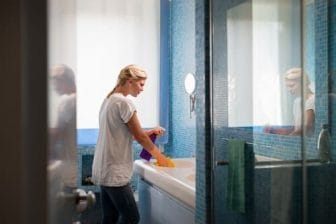 The bathroom is considered by many people the most important room in the house. It's a place where you can maintain your good health, as well as your beauty. That's why it is crucial to keep it in excellent condition, and first-rate Chandler maids have some great advice for you on how to get a perfectly clean bathroom. 
We also specialize in numerous other key cleaning aspects. So, if you want to become familiar with the perfect way to clean your house and how to handle cleaning with a toddler, you've come to the right place. Annoying chores such as removing mold in the kitchen will be a thing of the past!
What should I use to clean my bathroom?
Bathrooms consist of several different areas and elements, and every one of them should be cleaned using a different method. To clean your bathroom thoroughly, you will need:
Gloves 

Multi-surface cleaning spray

Scrub brush

Bleach

Bucket

Toilet brush

Microfiber cloth

Clean rags

White vinegar

Baking soda
With these items, you will be properly equipped to clean the following:
Toilet 
Contrary to popular belief, the process of cleaning the toilet is rather straightforward. However, it needs to be cleaned in-depth to get rid of all the vicious germs inhabiting it. Just pour a cup of baking soda into the toilet bowl and allow it to rest for a few minutes. Then, use your toilet brush to clean the entire surface, flush, and the toilet will sparkle. 
Bathroom sink 
Baking soda will also be necessary here. Simply pour it down the drain, and flush it with hot water. As for the faucet, spray it with your multi-surface cleaning spray and wipe it clean with a rag.
Dingy grout 
Considering that a large number of bacteria may grow in your grout, you need to refresh it regularly. Do this by pouring bleach over the discolored areas, use your scrub brush and rinse carefully.
Shower 
Pour a few drops of white vinegar into a cup of baking soda and spread it across the shower door. Let it sit for an hour. Finally, use another cloth to rinse it and dry it off. 
For the showerhead, you will need to submerge it overnight in a plastic bag filled with white vinegar. The next day, just remove it from the bag and rinse it. 
Dirty shower curtains shouldn't be a problem either. Feel free to wash them in your washing machine with detergent. 
Tub 
Pour water all over the tub and use a scrub brush to spread baking soda across the surface. Keep scrubbing until you remove all the filth, rinse and let it dry.  
How often should you clean your bathroom?
Just as it is with different cleaning procedures, you shouldn't view the bathroom as a single unit when deciding when to clean it. But rather, it should also be divided into sections, since every element has distinct properties. 
For instance, you can get away with cleaning your toilet every few days if you live alone. The situation changes if you have children, who are especially sensitive to the bacteria that emerge from the toilet. In that case, you should clean it every day meticulously.
The same goes for your sink. Due to the fact that it can get infested with germs, it should be properly cleaned every day to make sure that you and your family are living in a healthy environment. 
You needn't be as diligent with elements such as your shower curtain and tub. The former is the least demanding of all, and to maintain its cleanliness, cleaning it once a month will do the trick. Your tub won't give you a hard time either, and you will be fine washing it once a week.
Unparalleled Chandler maids will work wonders in your home 
You probably spend so much energy throughout the day that you feel awfully tired and unable to cope with seemingly endless chores. Your work and family obligations take up most of your time and leave you depleted. But Maid Easy will be more than happy to help you! Your bathroom and all other homes in your home will be spick and span once the maids we match you with take over.
Rely on the peerless maids in Chandler to give you plenty of free time to wind down and enjoy your favorite activities. Check out one of the fascinating plays at the Chandler Center for the Arts knowing that your home is in expert hands. 
Maid Easy delivers perfection. Book your cleaning now!
---
---