How to Sanitize Dishes and Food Preparation Surfaces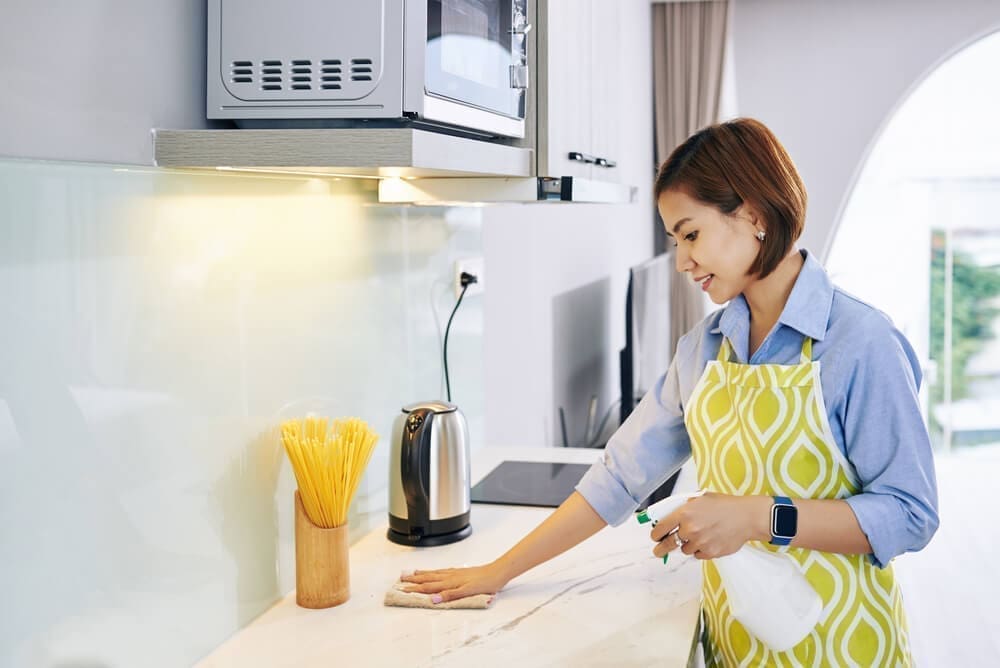 After cooking a delicious dish for your family, washing the dishes, and wiping down your counters, it's time to wind down, right? Unfortunately, there's still a lot of work to do. While you may have cleaned the kitchen thoroughly, dishes and food preparation areas are still not sanitized. This means that vicious microorganisms linger on various surfaces and you're running a risk of contracting salmonella or other serious diseases.
But how exactly do you sanitize food preparation surfaces? Also, how do you disinfect the dishes without bleach? No worries – the finest house cleaning pros in Buenavante are about to give you the answers. Read on, and you'll find out how to keep germs away from the kitchen.
What is a food-safe disinfectant?
While using the most potent substance you can find when tackling germy kitchen areas is tempting, it can also be extremely dangerous. Such products may contain toxic chemicals that can severely harm your health. That's why you want to use a food-safe disinfectant to follow up your countertop deep cleaning and take care of other food preparation surfaces.
To make sure your disinfectant is food-grade, check the label to see if it's EPA-registered. For instance, chlorine disinfecting wipes aren't suitable because they aren't meant for food contact surfaces. On the other hand, chlorine beach with 8.25% sodium hypochlorite is perfectly safe.
How do you sanitize dishes without bleach?
After washing your dishes with a cloth or sponge, it's always a good idea to sanitize them. Most homeowners use bleach, but it's not the only substance that will keep germs at bay. Here are your other options:
Boiling water
Boiling water is a terrific sanitizer, especially for glass, ceramic, and metal dishes. The high temperatures will kill common food-borne microbes typically found on meat.
To sanitize your dishes, place them inside the pot before heating it up to prevent temperature shock. Let the water boil for at least 60 seconds and turn off your burner.
Vinegar
Some dishes, such as those made of plastic, can't be boiled. This is where vinegar comes to the rescue. Just fill a large pot or tub with 9 parts water and 1 part vinegar. Let the dishes soak for half an hour so that vinegar can eliminate any bacteria.
How do you disinfect food preparation surfaces?
You can use chlorine bleach with 8.25% sodium hypochlorite to disinfect food preparation surfaces. The percentage should be stated on the label, so make sure not to grab a product with a lower concentration or one that's meant for whitening or deodorizing laundry. Here's how to use the disinfectant:
Wash surfaces with soapy water and rinse to get rid of the detergent because it could otherwise lower the disinfectant's effectiveness.
Let the surfaces air dry or dry them with a towel.
Apply the disinfectant and let it sit for the recommended time. Check the label to see how long the product needs to stay on the surface.
Wipe the area with a clean cloth.
Rinse with clean water if the instructions say so.
Let the area air dry.
Another thing to remember is to never mix different chemicals. For example, if you combine ammonia and chlorine, you're risking a severe injury.
Where can I find in-depth house cleaning in Buenavante? Just give us a call!
Housework can sometimes turn into a real drudgery. All the mopping and scrubbing can drain your energy and leave you too tired to hike up to the Phoenix Mountains Preserve on a sunny Sunday. Thankfully, you can avoid all the toil with a single phone call. Reach out to Maid Easy and we'll pair you up with meticulous cleaners who will do all the work for you.
Book our services now! We guarantee consistent results.