---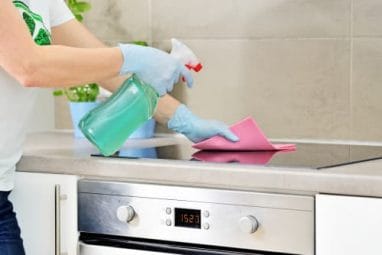 Even if your kitchen looks neat and clean, it doesn't mean it's a safe place for preparing your food. Dealing with bacteria in the kitchen is integral to good health since all sorts of microbes lurk in food preparation areas. Left unchecked, you and your family members run a risk of contracting a harmful disease.
Unfortunately, simple cleaning won't do the trick with kitchen germs. It requires a more in-depth approach, and your go-to house cleaning experts in Buenavante, AZ are about to tell you what you need to do! Keep reading, and you'll be able to say goodbye to kitchen microbes.
Which 3 areas in the kitchen have the most bacteria?
Cleaning your countertops thoroughly isn't enough to deal with all the germs in your kitchen. You'll also need to pay special attention to the following areas and objects:
Kitchen sponge
Over time, your kitchen sponge can turn into a bacterial breeding ground. The item is wet most of the time and most commonly soaks up coliform bacteria. In addition, about 15% of kitchen sponges may harbor vicious salmonella.
Kitchen sink
You place almost everything in your kitchen sink. Raw meat is rinsed off the cutting board. In fact, your sink can be home to more bacteria than the toilet.
Cutting boards
On average, cutting boards have up to 200 times more coliform bacteria than your toilet seat. When you use them to cut up meat, they can also develop campylobacter bacteria and salmonella.
How do you prevent germs in the kitchen?
You can do many things to prevent germs from spreading throughout your kitchen. Here are some useful suggestions:
Wash your hands using warm water and soap for at least 20 seconds before handling raw food, and after it.
Wash and sanitize work surfaces, such as cutting boards. To do so, apply a solution consisting of half a teaspoon of extra powerful bleach to every quart of water using a spray bottle. Let the mixture rest and air dry before re-using the surface.
Have at least two cutting boards in the kitchen. For instance, use one for fresh produce and another for meat. Again, wash and sanitize them after each use.
Separate raw meat in your fridge from other items. Place raw foods in plastic bags or sealed containers on the bottom of your refrigerator to prevent juices from dripping onto other items.
Don't use the marinade from seafood, poultry, or meats on cooked food unless it's been boiled first to kill bacteria. Another option is to go for unused marinade that hasn't touched raw meat.
Clean and disinfect your fridge thoroughly every now and then. Once you've cleaned it, wipe it down with a bleach solution. Return the food and get rid of any moldy or decaying items.
Clean blenders, eggbeaters, and food processors in the dishwasher. Make sure that the items have no food remains and run a cycle in your dishwasher to get rid of bacteria.
Hire the top-of-the-line house cleaning in Buenavante, AZ for an in-depth service
Maid Easy has been in the cleaning industry for many years, and we have matched countless families with second-to-none professionals. We've given our customers more time in their busy schedules and alleviated their stress by taking away the burden of cleaning.
Just give us a call, and the top-rated maids in Mesa and beyond will take care of all the housework instead of you. Once you get a taste of our services, you'll want to make schedules on a weekly basis!
Book Maid Easy now!
---
---