---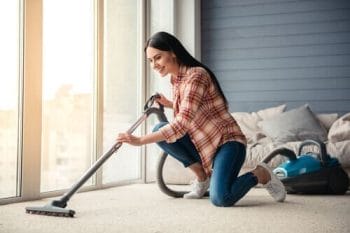 We all want a home free from dust, grime, dirt, and pet hair. You look to find the most efficient way to deal with these pesky things, and this is where your vacuum comes into play. Vacuuming is an integral part of house cleaning as it helps you remove dust and dirt from your home in McCormick Ranch, Scottsdale quickly and easily.
But just like any chore, vacuuming your house should be done regularly to get the best results. In this article, we'll tell you just how often you should vacuum your house and reveal other related tips. Keep reading!
How often should you vacuum your house?
If you want to clean any room properly, you'll need to do some vacuuming. It's the easiest way to get rid of dust in your home, but some areas require more attention than others. Here's how often you should vacuum certain surfaces:
1. Vacuum your carpets frequently
The frequency of carpet vacuuming depends on the type of carpet and its exposure to dust. For example, you should vacuum high-traffic carpets and the surrounding area twice a week. As for light-traffic carpets, vacuum them twice a week as well, and the entire area once a week. Lastly, carpets with minimal exposure to dust shouldn't require vacuuming more than once every two weeks.
When vacuuming your carpets, don't go lightly. Make sure to run multiple passes in different directions to bring dirt up from the bottom, lift piles, and avoid matting. When vacuuming your carpets, you may want to vacuum your rugs, as well, to get rid of dirt and dust. Make sure to turn over any reversible rugs to vacuum both sides. If your rugs are delicate, you can use a special nozzle attachment on your vacuum to lift the dirt up.
2. Vacuum your hard floors once a week
Unless you and your family bring in lots of sand or dirt, or live in a particularly dusty area, you only need to vacuum hard floors once per week. Just make sure not to go longer without vacuuming. Otherwise, dander, dust, and other allergens can enter the cracks between your floorboards and cause many health problems.
Plus, there's no need to use harsh chemicals to clean your hardwood floors. Natural substances you already have in your house, such as water and vinegar, will do the trick in most cases.
3. Vacuum every day if you have pets
Having pets spells fun on many levels, but it also requires you to use your vacuum cleaner quite often. More specifically, you should vacuum your house daily if there are pets around. This is because pets shed dander and fleas that can cause or aggravate diseases and allergies. In fact, vacuuming is just as important as cleaning your sheets when combating allergens.
If you don't have time to vacuum daily, focus on the areas and furniture your pets use most frequently. Alternatively, use a robotic vacuum cleaner. Not only will it save you a lot of time, but it will also reach nooks and crannies that would otherwise be inaccessible.
Additionally, if you notice pet droppings on your floor, clean it up immediately. This way, you'll lower the chances of lingering odors.
4. Use a high-quality vacuum cleaner
This final tip isn't related to how often you should vacuum, but it's still crucial. Namely, try to invest in a high-quality machine you can use on various types of flooring. Unlike inexpensive models that only remove surface dirt, high-end machines are much more thorough.
Rely on first-class house cleaning in McCormick Ranch, Scottsdale
Vacuuming is simply a must in any household. It helps keep your home free from dust and makes the entire area more comfortable and pleasant. However, your job or a playdate with your kids at McCormick-Stillman Railroad Park may sometimes get in the way of vacuuming and leave the house packed with dust.
But no worries! With Maid Easy available 24/7, your house can still be immaculate. Just reach out to us and we'll have top notch cleaners vacuum your home thoroughly and perform any other job you demand. Satisfaction is guaranteed.
Book now!
---
---