Move Out Clean Out: What Needs To Be Done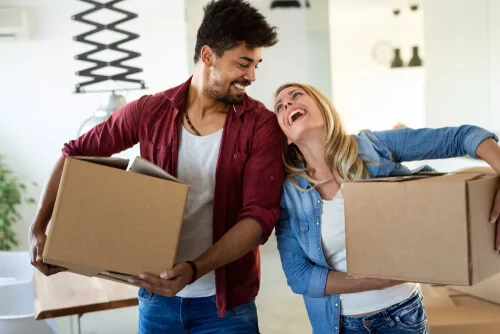 Moving house can certainly be nerve-racking: many people will tell you it's one of the most stressful life events they ever had to experience. Sometimes it can be so overwhelming that you don't know where to start. To make it a bit less anxiety-inducing, we'll talk about what a move-out cleaning consists of and hopefully help you prepare yourself better. Hiring a professional cleaning service to do your move out cleaning in Scottsdale, AZ is another way to get through the moving process more smoothly.
We already talked about what is necessary for a move-in cleaning in our previous blog.
What does a move out cleaning include?
With moving preparation tasks abundant, such as organizing, preparing paperwork and packing, would anyone have the energy to worry about the cleaning too? And we're not talking about one, but two cleanings, which might be a bit much to handle during this busy period. A move-out cleaning must be done so you can get your security deposit back or attract prospective buyers for your previous home, while a move-in cleaning is necessary to settle nicely in your new home.
You could say that a move-out cleaning is similar to spring cleaning plans in some ways, as both entail washing the windows, cleaning the ceiling, etc. Whether you decide to clean yourself or hire a professional cleaning service, here are some tips on how to leave your apartment impeccable:
How clean should an apartment be when you move out?
This depends on your goal, but to make sure you have no trouble getting your security deposit back or selling the house if that's your plan, we'll cover some of the essential tasks that need to be done when moving out.
Washing the windows.
Sparkling clean glass surfaces such as windows and mirrors contribute to the overall impression your house leaves on visitors. If you're looking to sell, make sure to do them justice, and don't forget to get the window sills and blinds when you clean. When it comes to glass, using the right cleaning product is of utmost importance. Taking care of the walls, dust, and cobwebs.
Removing the cobwebs from walls and corners can be done using a vacuum and/or a washcloth. Check every nook and cranny, paying special attention to baseboards, doors and knobs too. Removing smudges and stains from walls, and filling in any nail holes is also a basic part of move out cleaning.
Cleaning the floors
Vacuum, sweep and mop the floors once you've taken your belongings out. Choosing the appropriate product will make a huge difference.
Taking the trash out
Don't forget to empty your garbage can and take out the trash when you're finished with the cleaning.
Can a landlord charge you after you move out?
A landlord can charge you if you caused damage to the place outside of what's considered normal wear and tear (damage that occurs naturally in a property due to aging). That's why the condition of the property needs to be thoroughly documented. Security deposit is normally used to cover charges for damage repair if necessary.
The finest move out cleaning Scottsdale, AZ has to offer
Are you exhausted and simply put: sick and tired of anything and everything that has to do with moving? Have you had enough?
Maid Easy will gladly take the cleaning off your hands, letting you enjoy a good climb to Camelback Mountain instead. You can relax and have fun all day doing the things you like doing the most, while your trustworthy, experienced, highly skilled and meticulous cleaners make sure you'll get your security deposit back, as they leave your house spotless.
We offer a variety of cleaning services, tailored to fit your needs perfectly, so don't hesitate to call us or book online. We're looking forward to hearing from you!