---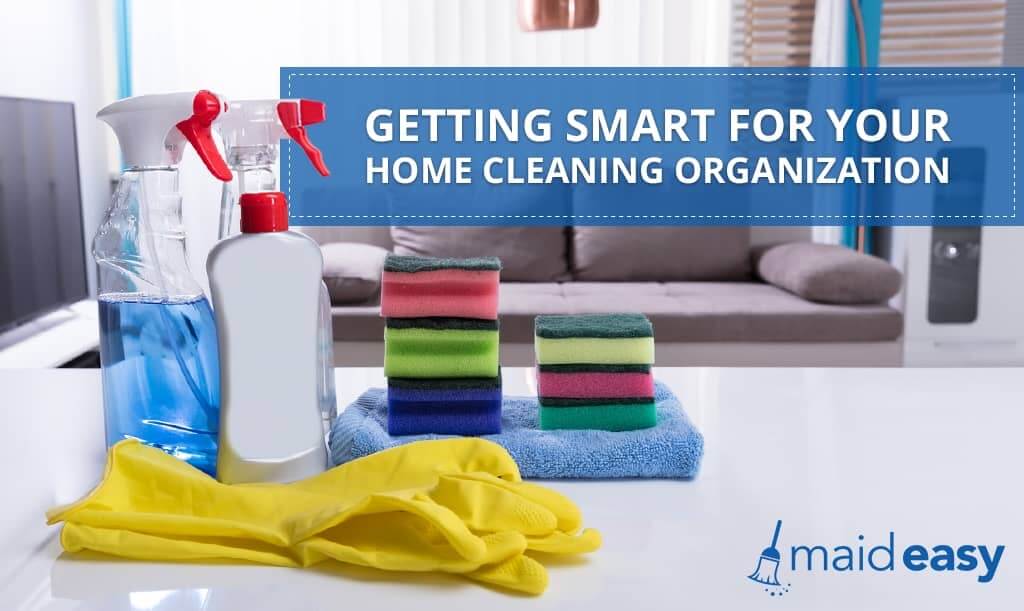 Cleaning tasks are not fun, but if you can organize it, so it doesn't take as long, that will help with tackling those chores.  The key to saving time is being organized and following a schedule for cleaning that works for you.  Here is a guide to help you do that.
Organizing Your Cleaning Supplies
Make use of cabinet doors. So why won't you put every bathroom cleaning material in the bathroom? Well, maybe because you don't have enough space — that is until you add some baskets or containers that hang onto the back of your cabinet door. There are a variety of different attachments that can be used on the back of that cabinet door, things like hooks for brushes and containers for products in rolls and even small baskets.
Get those wall hangers for your closet or utility room. Get hooks for those things that can be hung so they will all be in one place. You can hang the brooms, the mop, dusters, and even the ironing board and iron if you still use them.
Use a tote. A portable caddy makes it easy to move from a room to another as you go cleaning.  You may want a few of these so you can organize the different cleansers and tools needed for each room.  There are several different kinds to choose from so you choose the one that will work for you. 
Be creative. You can reuse containers.  For example, a shoe box can transform it into something new for storing light bulbs.  A round oatmeal box is great for storing batteries.  The nice thing is that you don't pay anything extra for those storage containers and all you need to do is label them.
Think higher. If you're in doubt, you can add a few shelves. They have so many different kinds for that purpose.  If you don't need a whole shelf then use a small organizer shelf to double stack those things that can be stacked up.  You can even get baskets/trays/tubs for organizing some of those things on the shelf.
Use a tension rod. The spray bottle handles can sit on top of a rod without falling over. Also, this savvy idea can double the number of cleaners you put under your sink.  This is a good idea for a lot of places, not just under the sink, think laundry room for hanging up small items to dry over the dryer.  
Take a spin in your storage. A lazy susan can make it easier for you to locate items that you keep under the sink. It can be pretty handy for those seldom-used cleaners ending up behind the pipes.
Go vertical. Even if all the available space you have is just a few inches to your dryer or washer, small hanging baskets that slide under the shelving or cupboard can come in handy. Some of those office organizers for the desk may work too, like the bins to hold pens for small cleaning tools like old toothbrushes or small scrub brushes.
Choose your go-to area. If you're fortunate enough to have an extra space or a  utility closet to designate all your cleaning materials, then do it. Just keep it organized!
To plan your cleaning tasks, prepare a checklist. Coming up with a plan, even for cleaning, will help you get through with it on time and stay on track so that your whole house gets cleaned.   Here is a guide to help you with that plan!
Step 1: Devise a master list.
Before deciding when to regularly clean, you must first determine what to clean and how often. Therefore, assessing your home and cleaning needs is a must before you can proceed to prepare a cleaning schedule that suits your lifestyle.  
Step 2: Choose the best plan for you.
The next thing that you should tackle is to find out what kind of cleaning plan will work best for you. Are you the type of person who's satisfied doing a bit of work every day, or will you instead take it on at one time so you can relax for the rest of the week? Are you working outside of your home? Do you live alone?  Will someone else help with the house cleaning tasks?
Remember that there is no "right way" to keep your house cleaned, and there is no universal cleaning schedule that will fit every household needs. This is just a simple guide.  Change it so it matches your own needs!
If you're the kind of person that has a difficult time to function when there is a mess everywhere, this can be the best choice for you. Daily cleaning can keep your home relatively tidy all the time, so then there isn't much "deep" cleaning needed.
Option B: Timed Errands
This cleaning plan observes a master list of tasks done weekly. You must have a specific time that you allow every day,  like 45-90 minutes,  to get some cleaning tasks done.  After the timer stops, you can drop everything for the day then continue the next morning.
Option C: One Major Thing A Day
This kind of cleaning plan designates a specific task to do each day. Like for example, washing all the bedding on Monday, vacuuming and mopping on Tuesday, cleaning the bathroom on Wednesday, etc.
Option D: Get Everything Done in a Day
This saves everything for one big cleaning day each week. This can be an appropriate choice if you work the whole week and would rather clean on a day when you are not scheduled to work.  You can choose one monthly, quarterly, or yearly chore to take on every cleaning day if this is your preferred method.
Step 3: Jot Down Your Schedule
Once you've had everything set, you can now print or just write your chosen plan on a sheet of paper to keep track of everything! You can also download printable forms on the internet! If you also think that you need help, check out the professional cleaning services while you're at it. After that, you're good to go!
---
---