---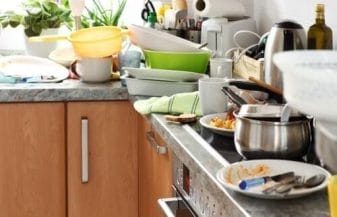 The item that's on most homeowners' daily checklist is ensuring an immaculate home. Typically, the main motivation behind this lies in the desire to enjoy your interior at all times, as well as to make a lasting impression on your guests. However, when you understand how a clean home can help preserve your good health, you'll feel even more inspired to keep it spotless.
If you're not sure just how beneficial cleaning can be healthwise, no worries. The top-rated maids in Chandler, AZ are here to shed light on all you're looking to find out. Read on!
Can a dirty house cause health problems?
A dirty house can definitely have an adverse effect on your health, and here are some of the most common ways it can harm you:
Allergies become a nuisance
A dirty home can turn into a real breeding ground for allergens. In particular, dust mites can settle onto your bed sheets if you don't clean them regularly and in turn exacerbate eczema, skin irritations and other allergies.
You get stuck with low air quality
If you fail to address the poor air quality in your home, it can get so polluted that you can't sleep and function properly. For instance, if your vacuum doesn't have a high-efficiency particulate air (HEPA) filter, dirt and dust will just fly back into the air as you vacuum. In that case, asthma and other breathing difficulties pose an imminent danger.
Mold starts developing
A mistake people make frequently when cleaning is forgetting to tackle all the surfaces mold can grow on. These include any damp areas such as your drywall, basement, or the shower head. Unless you stop it from spreading, mold can cause many ailments such as nausea, headaches, nasal congestion and more.
Your fridge turns into a health hazard
Even if your fridge drawers seem clean, they can still harbor a number of vicious bacteria, including E. coli and salmonella. If they enter your body, the symptoms can range from an upset stomach to serious conditions such as kidney failure.
How do you keep your house clean and safe?
Cleaning your house on a daily basis will go a long way in avoiding all these nasty developments. It's even better if you have a time-saving deep cleaning method that can help you feel much safer in your home. Here's what you should focus on to maintain cleanliness and health:
Clean your bed sheets and maintain a favorable humidity level
In order to deal with dust mites and other allergens your sheets can trap, wash them in 60-degree water at least once a week. Additionally, use a dehumidifier or air conditioner to keep relative humidity at about 50% or below.
Clean or replace all your filters
To make sure that your air conditioning filter is doing its job, clean or replace it regularly. This will prevent a large dust build-up and ensure proper filtration of air pollutants. The same goes for your vacuum, clothes dryer, kitchen vent filter and other filters.
Eliminate mold
To remove mold effectively, you can use detergent and water. Scrub mold off of any hard surfaces, and don't forget to ventilate your room in the process to avoid further contamination.
Address your fridge
By no means should you leave anything to chance when it comes to food in your fridge. To cut the risk of contracting a foodborne disease, disinfect the drawers and shelves at least once a month.
Hire second-to-none maids in Chandler, AZ – we guarantee an ultra-clean home
Don't you just wish you could leave the
cleaning to someone else and take a trip through history at the Pueblo Grande Museum? Well, now that Maid Easy is by your side, you can do just that. Reach out to us with just a few clicks and we'll send first-class cleaners who will go above and beyond to exceed your expectations.
You'll finally be able to put your feet up. Book now!
---
---