---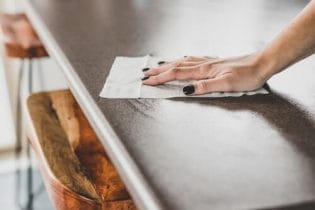 Protecting yourself from colonies of germs does not stop at just washing your hands. There are also steps you need to take in your home, cleaning, disinfecting, and sanitizing being three of the most important ones. The three processes involve different methods, and knowing the intricacies of sanitizing, cleaning and disinfection will ensure a job well done and cut the risk of catching a disease.
You might think that cleaning alone is enough to get a germ-free house, but that's simply not the case. You need to complement it with sanitizing or disinfecting, and top-grade home cleaning services in Phoenix, AZ are here to show you how.
Once you've gone through this article, avoiding the spread of germs will be a whole lot easier. Stay tuned!
What are the 5 steps to cleaning and sanitizing a surface?
Many homeowners are confused by the distinction between cleaning, disinfection, and sanitizing. In short, cleaning removes visible dirt and grime, while sanitizing reduces the number of germs on a surface. Lastly, disinfection is used to eliminate 99,9% of germs on a surface. All three of these techniques are incredibly useful for maintaining a safe and healthy home.
When it comes to cleaning and sanitizing, they usually take 5 steps to accomplish. Here's what each step consists of:
Removing debris
Any debris, soil and crumbs between your cleaner and the surface make the job much more difficult. Such particles prevent the cleaner from reaching the surface and greatly diminish its effect. Therefore, before you start cleaning, make sure that there's nothing in the area that may get in the way.
Washing with soapy water
To prepare the surface for sanitization, wash it down with soap and water. Just dampen a cloth with the mixture and keep scrubbing until the dirt and stains are gone.
Rinsing
To get rid of any residue soap, rinse the surface with warm water. At this point, you can move on to sanitizing.
An important thing to remember is that sanitization will require you to use chemicals. This means that you will need to take some precautionary measures, since applying a chemical to kill viruses can be dangerous. For this reason, don't forget to put on gloves and ventilate the room you're working in.
Apply your sanitizer
If you're not sure which chemical to go for, select one from EPA's list of approved household disinfectants. Apply the disinfectant you prefer and allow it to take effect.
Considering that COVID-19 is still a dire threat, you should sanitize a larger number of items than usual. This is because coronavirus particles can live for days on certain objects and pose a threat to your well-being for a long period of time.
Dry the surface with a paper towel or let it air-dry
Finally, let the sanitizer sit for a few minutes before drying it with a paper towel. Alternatively, you can choose to let it air-dry.
How do you sanitize food surfaces?
You should sanitize all surfaces where food is prepared or served both before and after using them. This will greatly lower the chances of contracting infectious diseases that are common in the kitchen.
The sanitization process is the same as the one described above. However, there are a few points you should bear in mind when tackling food surfaces:
When sanitizing countertops, don't use acid, alkali or sodium hypochlorite. These can mar, etch, corrode and permanently discolor the laminate surface.
For your laminate cabinets, be sure to use a soft, lint-free cloth or a microfiber cloth to avoid scratching the surface.
Stainless-steel appliances require non-abrasive stainless-steel cleansers that also won't leave scratches.
Depend on the finest home cleaning services in Phoenix, AZ
Now that the COVID-19 pandemic has forced you to take extra measures to preserve your health, worrying about menial things such as housework is only a distraction. Just book Maid Easy and we'll outsource your cleaning to meticulous professionals who never fail to deliver.
In just a few clicks, you can make your life much easier. Wouldn't you like to check out Six Flags Hurricane Harbor once the pandemic blows over and not dust and mop all day long? Maid Easy can make that happen.
Schedule your service now!
---
---