---
If there's one room in your home that should be clean and germ-free all the time, it's definitely the kitchen. The reason for this is simple: you just can't afford to prepare food on infested surfaces and risk contracting a disease. That being so, making sure your kitchen is properly sanitized should be on every homeowner's to-do list. 
To understand all the intricacies of kitchen sanitization, you can once again rely on your professional house cleaning in Phoenix, AZ. Read on to find out what the process should look like from start to finish. 
How do you sanitize a kitchen? 
You'll find no better source of information than Maid Easy. Whether you're looking to learn how to disinfect the bathroom, clean the bedroom thoroughly, or browsing for a simple way to clean the living room, we've got you covered. 
But first, we'll show you how to sanitize your kitchen so that you can cook food in a healthy environment. Here are the steps: 
Clean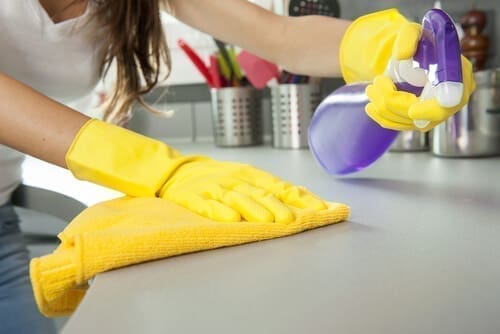 You want to clean your kitchen first in order to get rid of visible dirt and bacteria that can get in the way as you sanitize. Wash the surfaces with soapy water and wipe them clean with a paper towel. 
Even though it takes more to deal with all pathogens in your kitchen, cleaning can help lower their number. In addition, cleaning makes sanitization much more effective, which is why it should always be the first step in the sanitization process.
Sanitize 
Sanitize the kitchen by pouring or spraying your sanitizing solution on surfaces and wiping them clean with a paper towel. Before using the surfaces again, make sure that they are completely dry. 
The procedure is fairly similar for your utensils and cutting boards. After washing them with soapy water, soak them in a sanitizing solution, let them sit for a few minutes and rinse with water. 
How do you sanitize countertops? 
Sanitizing countertops can prove tricky, since many sanitizing substances can harm their surfaces and strip the shine. However, using a mixture of rubbing alcohol and water is safe to use on most types of countertops. 
To sanitize a countertop, clean it thoroughly first to eliminate grime, dust and stains. Then apply a solution of equal parts isopropyl rubbing alcohol and water. Once the countertop is dry, wipe down the surface with a microfiber cloth. 
What is the most common kitchen sanitizer?
The most common kitchen sanitizers are chlorine-based sanitizers. The main reason for that is that they are effective against all bacteria and inexpensive. Taking this into account, most people go for chlorine bleach when sanitizing their kitchen. 
To use chlorine bleach properly, make sure you apply it at room temperature. Additionally, it needs to be in contact with a contaminated surface for a recommended amount of so as to take effect. Finally, the most common concentration is one tablespoon of bleach per one gallon of water. 
Book first-rate house cleaning in Phoenix, AZ for an immaculate home 
Everyday housework is a burden many of us face. When you add your regular job and other obligations on top of that, it can often be the last straw that leads to high stress. But why not save yourself the trouble with just a few clicks? Simply hire Maid Easy and we'll outsource your cleaning to experienced maids who will make sure your home shines from top to bottom. 
With Maid Easy, hours of tedious sweeping and dusting will be a thing of the past. Once the coronavirus pandemic subsides, take a trip to the Mystery Castle, and return to a pristine house. Book Maid Easy now!
---
---